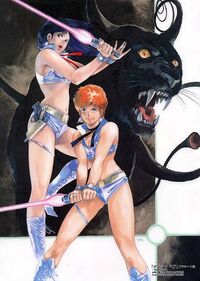 Dirty Pair (ダーティペア Dāti Pea) is a Japanese science-fiction comedy novel series written by Haruka Takachiho and the original series which all the later incarnations are roughly based on.
Production
[
]
The inspiration for Dirty Pair novels was a visit to Japan by the British Australian SF author A. Bertram Chandler, probably in 1978. On his itinerary was a stop at the young Studio Nue, which Takachiho co-founded. As something to entertain their guest, two of the staffers there, Yuri Tanaka and Keiko Otoguro, hit upon the idea with Takachiho of taking Chandler to a tournament of the All Japan Women's Pro-Wrestling organization, which was a member of the World Women's Wrestling Association (WWWA). The card included the highly-popular wrestling (and singing) team, the Beauty Pair. Something that passed among the foursome during that match led Chandler to remark to Takachiho something to the effect that "the two women in the ring may be the Beauty Pair, but those two with you ought to be called 'the Dirty Pair'.
This became the germ of an idea for a novella Takachiho decided to write, transplanting the rough-housing of pro-wrestling to the realm of space-opera mystery stories, with which he already had experience in his already successful Crusher Joe series. The team code-name "Lovely Angels" is also play on the names of certain women's teams of the time, such as the Queen Angels.
Release
[
]
The light novels have begun to be released in English translation from Dark Horse Comics DH Press: the complete first book appeared in September 2007, and the second book appeared in March 2008. English translations previously existed only for the first story (published as one of a series of short books for Japanese students of English) and the fifth book, which was originally released in Japanese and English translation on the Microsoft Network during 1997–99.
Novels
[
]