We're Getting Mutants in the MCU - The Loop
Play Sound
This article lists references or homages to the Dirty Pair series in other popular culture such as television, film and video games.
Anime & Manga
[
]
In the 43rd chapter of the Dr. Slump manga titled Gatchan Goes for a Walk, a Dirty Pair poster with the light novel designs of Kei, Yuri, and Mughi is seen in Senbei Norimaki's room.
They make various cameo appearances in episodes 151, 159, 168, 169, 173, 176, 178, 181, 183 and 194 of Urusei Yatsura.
In Osomatsu-kun: Greetings from the Watermelon Planet!, some of the 3 frames that Totoko dressed a "Lovely Angels" like costume was appeared.
Also they reused the costume for Totoko and Nyaa from the 1st opening of the 3rd season of Osomatsu-san.
They have a cameo appearance in Patlabor OVA episode 2.
Mai and Yui Kamishiro in Jushin Liger are a duo that have similar appearances and hair colors to Kei and Yuri.
In the universe of Hyper Doll, "Lovely Angels" was suggested as a new code name for the main characters Mew and Mica but it was "already taken".
The titular characters of Panty & Stocking with Garterbelt are another homage to the duo in Dirty Pair Flash.
In Space Dandy, the uniforms that the waitresses wear at the restaurant Boobies are a pink version of the uniforms that the Lovely Angels wore in the light novel and anime series.
They make a cameo in episode 10 of Zan Sayonara Zetsubō Sensei.
Comics
[
]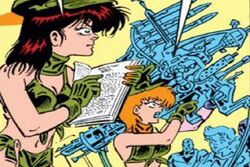 The comic series Danger Girls is a direct clone of the Dirty Pair series with the tagline saying "This work is dirty ...but this pair is up to it".
The Dirty Angels which are characters in Marvel Comics Excalibur series are a reference to the Dirty Pair.
A comic based on the video game Blade Kitten has an issue titled Dirty Angels.
Video Games
[
]
The Sega CD game Time Gal has a very similar style to the original anime series. The game's protagonist Reika also dresses just like them and has an appearance similar to Yuri.
Layla (released for the Famicom) is heavily inspired by the anime series complete with both characters having the same hair colors as Kei and Yuri.
Released on the Sega Mega Drive, Battle Mania (also known as Trouble Shooter in the West) as well its Asian-only sequel features a sister team known as the Trouble Shooters who satirize the Trouble Consultants, Kei and Yuri.
Live-Action TV
[
]
Star Trek
[
]
References
[
]